Nov 23, 2013
It is the time of year where the best feeling in the world is to give and the writers at the Alexandria Publishing group have a great gift to be unwrapped today! November has been a busy month for all of you writers with NaNoWriMo and for everyone who is finishing projects to launch in time for the holidays. Here at The APG, we  have our own project launching just in time for e-stock stuffing! But first…
…the unveiling…
We're proud to present the cover of the new release which has been created by the wonderful Renée Barratt: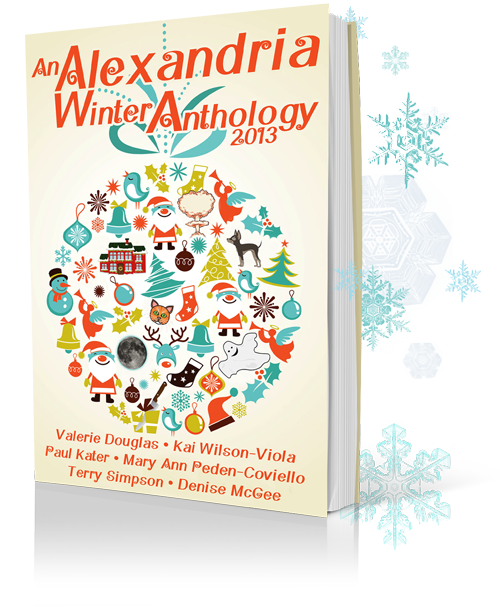 The Alexandria Publishing Group is an eclectic group of writers, and we've pooled together our talents again this year to create another exciting Winter Anthology.
By Valerie Douglas – A Home for the Holidays – Family isn't always the one you were born to…
By D Kai Wilson-Viola – Low winter, Blood Moon – Merridian's last night in Edinburgh is meant to be a time to grieve…but when she finds herself running for her life in Holyrood park, a null magic area, all she knows is she's being chased by a big, angry werewolf…
By Denise McGee – Full Moon Christmas – When a reclusive werewolf finds a lost child too close to the full moon, he must fight the change or live with the knowledge that he killed an innocent.
By Mary-Ann Peden-Covellio – Cynophobia – One very small dog and two not-so-angelic girls give Santa Claus a Christmas he'd rather forget.
By Paul Kater – Our Ghostly Winter – A young boy learns that there is more between earth and heaven, and that it can take the shape of a snowman.
By Terry Simpson – The Gifts – 12 Gifts will change a young boy's life forever.
By D Kai Wilson-Viola – Silent Fright – Jess knows that the boys are planning a big surprise and to go along with that, Jess decorates…but the lights attract more than just other survivors and for the first time in months, the walls are overrun with zombies.
We'll be back with you as soon as the new release is available. On behalf of all our writers and other artists we thank you for being with us, and we wish you a wonderful festive season. Till then from all our writers, artists and support staff may your holiday season from here on in be exciting and fun!
Just in case you missed last years, our Winter 2012 Anthology is still available from Smashwords and Amazon.
As soon as it is released we will let you all know so you can stuff everyone's e-stockings with some festive holiday joy for you and your friends and family! from all our writers, artists and support staff.
Official Launch Page:
Alexandria Publishing Group is a writers' collective made up of individual authors with proven talent. Each has shown dedication and skill in creating and producing amazing books that compel and create a strong, solid reading platform.  Quality is a key and critical factor in inclusion on the group's' roster, alongside writers with a true passion for writing.
"I've always written," says Kai, "and it really appeals to me to work with other indie authors and providers to pool our resources. Working as an editor with the group too, really means I can be sure that I'm investing in like-minded individuals and have the support I need for my own books. And while I can offer a lot as a writer, I'm also keen to help indies reach a broader audience."
To discover more selections of some of the best indie books in print or e-books from the authors above and others in the APG please explore the rest of the website, subscribe to our newsletter, check out more from our authors, or join us over on our Facebook page!